Our loon chick was at Avian Haven for rehab and met a friend there who had an injured eye. The Heminways were able to visit them and had a tour of Avian Have on Friday, September 28. The two loons spent their time on Pea Porridge Pond in Madison, NH until Saturday, September 29.
The release went just fine on Saturday, and was predictably over almost as soon as it began. The day was bright and sunny, and our favorite Searsport, ME cove was almost flat calm – just a very light breeze.
The two loons swam out into Penobscot Bay with barely a glance behind.  They both took deep dives, sometimes one at a time, sometimes together.  They stayed right together, and were frequently seen touching each other gently with their beaks as they looked around with obvious interest at their new surroundings. It could not have been more than ten minutes before we could no longer see them, both of us having forgotten binoculars.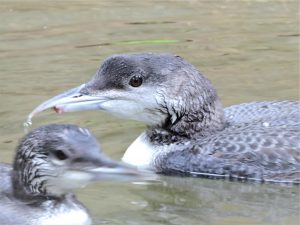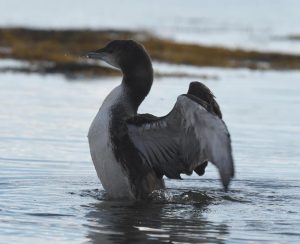 Photo by Linda Heminway                                        Photo by Terry Heitz                                                   At Pea Porridge Pond, Madison, NH                       Searsport Cove, ME